American DND, Inc. is a Service-Disabled Veteran Owned Small Business Firm that was formed in 2004 by Mr. Bill Schaab. American DND performs Demolition and Nuclear Decommissioning on a National basis for Governmental, Industrial and Commercial Clients. Mr. Schaab is a lifelong Professional Contractor and has worked as either an Owner or Officer of former public companies, private companies, and both large & small decommissioning contractors over his 40 year career.
In June of 2006 American DND became a Service-Disabled Veteran Owned Small Business when Schaab' s cousin (William Sundeen) acquired the 51% controlling interest of American DND. Schaab and his Professional Environmental Consulting Company (CS-2) own the other 49%. The SDVOSB status allows American DND to offer 'diversity' credit to its Clients, and allows American DND to compete on "set-aside" projects for various Governmental Agencies, as well as offer services in the open market place.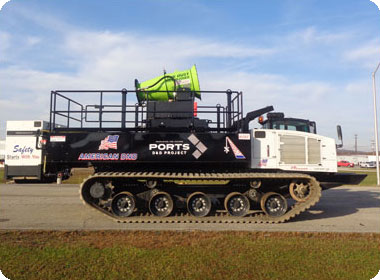 American Demolition and Decommissioning Inc. is part of an integrated group of companies whose mission is to provide:
Safe
Regulatory Compliant
Efficient, and
Cost Effective
facility decommissioning of nuclear power plants and former D.O.E. facilities
ADND also performs large scale demolition and Brownfield development projects for both public and private clients.
To date, approximately ten nuclear power plants have been either decommissioned, or are undergoing active decommissioning. ADND personnel have worked at eight of those ten facilities. The ADND Management Team has more diversed decommissioning experience under one roof than any other firm in the industry.
American DND's focus and specialty is in providing infrastructure support and demolition activities to both contractors and owners performing decommissioning projects.
The experience obtained by ADND personnel from successfully performing past demolition projects has provided vast 'Lessons Learned' data that can be built upon for new clients who are about to embark on their own decommissioning activities.
The highest potential for success on any D&D project is when the owner includes experienced demolition personnel in the early planning stages to help lay the foundation for a safe and successful decommissioning plan.
The foundation of a decommissioning plan begins with solid groundwork for both tangible functions and intangible behavioral aspects. ADND personnel augment the staff and facilitate both the tangible and intangible functions by helping the Client manage the constant change that will be encountered on a day-to-day basis as they proceed down the decommissioning path. ADND can function either as a mentor to facilitate the change or can also perform both the tangible and intangible aspects if necessary and beneficial to the Client.
The assets, technologies, skills, and behavior necessary to operate a nuclear plant are far different from the talents, means & methods, equipment, and focus necessary to safely demolish the same nuclear plant. Despite the vast differences, there are many constants between the two aspects.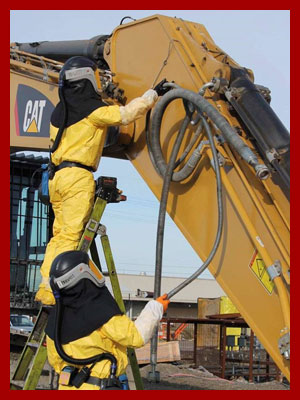 ADND believes the primary constants are:
Dedication to SAFETY as a #1 VALUE
100% Regulatory Compliance
Environmental Stewardship
Ethical & Professional Working Environment
American DND helps clients by "bridging the gap" from an operating facility to full scale demolition operations. Our personnel are schooled demolition professionals who have successfully made the transition and share those past experiences with new facilities/owners/ clients.
The decommissioning of a facility is a step by step process. American DND assists clients with each step of the way and helps clients transition from one step to another. American DND can assist clients with any of the following:
Initial Tangible Functions
Review original construction specifications and blueprints for materials inventory
Destructive testing and investigation to further qualify and quantify environmental materials that will effect the waste stream and demolition considerations
Environmental site assessments that will effect waste streams and demolition considerations
FERC estimates
Review operating history of the facility from an environmental stewardship standpoint
Waste stream considerations
Departmental operating budgets during decommissioning stages
Contractor RFP development
Initial Intangible Considerations
Regulatory capital assessments
High level managerial transition plans
Contractual basis for decommissioning activities
Assessment and analysis of line management and staff personnel
Behaviors and attitudes towards decommissioning
Integrated Safety Management (ISM) implementation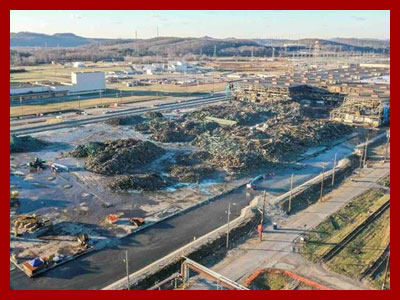 Decommissioning Operations Functions
Waste transportation logistics
Disposal options and logistics
Demolitions equipment management and maintenance functions
Asset recovery considerations
Recycling/Reuse considerations
Beneficial reuse opportunities
Work Plan and Task Package implementation and oversight
Field managerial oversight and integration
Craft training and supervision
The American DND Team of Professionals is a group of people with a 'can do' attitude and whose mission is to get the job done in a Safe, Regulatory Compliant, and Environmentally friendly, professional manner. Our standards of Safety is Value #1 and commitment to the Client's culture and sensitivities are all attributes that contribute to the success of a Client's decommissioning project.
6- P's Principle
American DND utilizes the six 'P's principle on every project we perform:
Prior
Proper
Planning
Prevents
Poor
Performance
Once the project is properly planned then American DND Professionals implement a successful work plan and model:
"Plan the Work, and then Work the Plan"
The benefits of American DND Professionals is they have vast experience in where the "rubber meets the road". It's not just good enough to have nicely written plans that look good on paper, they need to be written in a manner so the Craft and Staff Personnel understand them, and most importantly are able to buy into them for successful implementation at the field level. This happens by empowering the Craft/Staff and involving them in the planning stages of the project, and continuing throughout the day to day performance of the project.
When the American DND group of companies is involved on a project, it's no accident that the project will be performed Safely and Compliantly.
For more information, please check out our brochures below.