Decommissioning, Demolition and Environmental Cleanup is a "people" business which requires use of specialized equipment. American DND possesses the Professional Management Personnel and equipment necessary to perform projects from the simplest to the most complex.
American DND provides customer service orientated demolitions and environmental cleanup by integrating our Professional Management and specialty equipment to work harmoniously with Client infrastructure and Project Management Teams. Safety is the #1 overriding concern for every task performed and is proactively calculated into every site operation and function. The following is a brief description of the disciplines and skill sets of American DND's Decommissioning Professionals:
Senior Managerial Personnel immediately available for travel to any project to perform strategic planning, logistics, prioritization and resource deployment activities.
Health & Safety Professionals experienced with demolition/environmental interface. Generally all Health & Safety personnel maintain EMT, HazMat and First Aid credentials.
Demolition/Environmental Project Management, Superintendents, Foremen and Lead Personnel capable of coordinating, executing, overseeing, and facilitating work in the field. These mid-level management professionals help oversee the actual work crews, coordinate efforts with other contractors, subcontractors, insure infrastructure support occurs to maintain equipment and to interface with the cliental and customer. These mid-level managers are seasoned professionals in demolition environmental HazMat emergency response operations.
An experienced Demolition Craft Work Force of disciplined professionals including but not limited to the following skill sets and talents:

Heavy Equipment Operators
Demolition Laborers
Demo Burners/High Burners
Riggers
Millwrights
Mechanics
Facilitators/Expeditors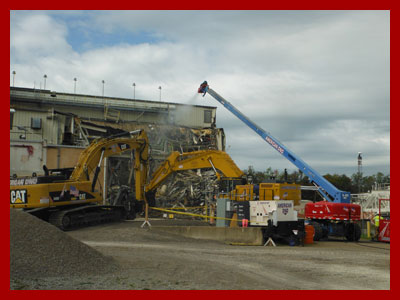 Equipment Available
The following is a general listing of various types of specialty demolition equipment nationally available to perform environmental remediation and marine/land based demolition projects.
Barges
Styles & Types:
Flat Deck
Hopper
Rock & Debris
Drop Deck
Work Barges
Sizes:
10′ wide x 20′-40′ long
20′ wide x 30′-60′ long
30′ wide x 50′-80′ long
40′ wide x 60′-120′ long
50′ wide x 70′-300′ long
60′ wide x 90′-140′ long
100′ wide x 300′ long
Tugs
300 hp – 3,000 hp
30′ – 150′ length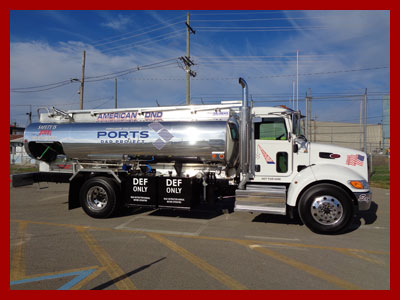 Cranes
Cherry Pickers, Rubber Tire – 15-80 ton up to 80′ stick
Rubber Tire Hydraulic Crane, 25-150 ton up to 180′ stick
Crawler Cranes 40 ton-350 ton up to 300'stick & 80′ jib
Attachments
Clam Buckets
Muck Buckets
Vibratory Hammers/Extractors
Hydraulic Pile/Casion Drivers
Pneumatic & High Pressure Jetting Systems
Drag Lines
Winches to 1,000 ton
Concrete Pulverizers
Rigging, Slings, Shackles,
Spreader Bars for Millwright
and Lifting Operations
Hydraulic Excavators
50 – 75,000 lb.
76 – 100,000 lb.
101 – 125,000 lb.
126 – 200,000 lb.
201 – 300,000 lb.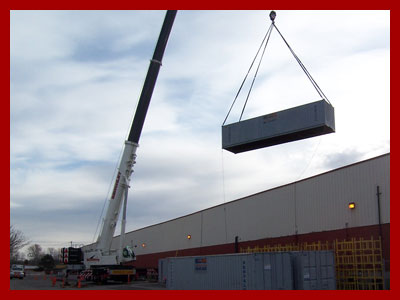 High Reach Excavators
Excavator Attachments for Demolition Functions
Grapples, Shears
Buckets, Buckets w/thumb
Hydraulic Hammers
Concrete Pulverizers
Stump Grinders
Mobile Concrete Crushing Equipment
Jaw Crushers
Primary Crushers and Impact Crushers
LGP Dozers (Mid – Large)
Rubber Tire Front End Loaders (Mid – Large)
Fuel Delivery Trucks
2,000 – 5,000 gal. Straight Trucks
4,000 – 9,000 gal. Tanker Trucks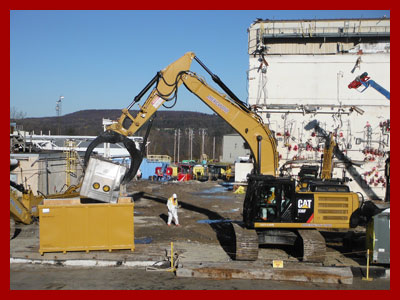 Off Road Dump Trucks (All Sizes)
Roll – Off Trucks w/Containers
Dump Trailers
Straight Trucks
Skid Steer Loaders
Sewer Cleaning Equipment
Combination Sewer Flusher/Vacuum Trucks
High Volume Vacuum Trucks
High Pressure Water Blasting Equipment (for smaller diameter sewer lines)
Drag Winches
CCTV Video Inspection Equipment
Pressure Washing Equipment (for surface cleaning applications)
10,000 – 40,000 p.s.i. High Pressure Water Blasters
Steam Cleaners
Hot/Cold Pressure Washers
3000 p.s.i. Gas Pressure Washers
HEPA Filtered Vacuums (All Sizes)
Wet Vac and Wet/Dry Vacuum Trucks
NADCA Certified Duct Cleaning/HVAC Cleaning and Associated Equipment
Dry-Ice Mold Eradication Process
Solid Waste and C&D Waste Landfills
C&D Waste Transfer Stations
Railcars 80-110 cu yds for Rail Transportation of Debris
Rail Logistics for Rail Transport Services
Infrastructure support such as dedicated fuel supply, generators, transportation available to support and facilitate the operations of the equipment above.